As a part of covering expenses and making money, many app developers (the persons who build's apps) add in-app purchases in their app. In-app purchases are additional features, functionality, and content, or in games, expansions, in-game resources, or character upgrades.
Having the option, to for example purchase new characters for subway surfer or any other game or Instacollage Pro or any other app you have downloaded can be a very great option and can really make your app or game more enjoyable and or fun. However, imagine your little child having no idea about what he or she is doing or the consequences of his or her action went ahead and made some purchases off your credit card, money you were planning on using to pay your bills. This option won't seem so fun after-all wouldn't it?
Luckily, you can turn off the ability to buy within apps to prevent this from happening. These instructions apply to all iOS devices: the iPhone, iPod touch, and iPad.
To turn off in-app purchasing, do the following:
1. From your home screen, tap the Settings app
2. Then tap General
3. Scroll down until you see the word 'Restrictions'
4. Tap Enable Restrictions
5. When you do this, you'll be asked to Set a Passcode. This can be anything that you can easily remember and will be use to locks certain functions of the iOS device. Please ensure that it is a password that cannot easily be guess by others you would not like to have it and don't share it with people you don't want making purchases. If they know your passcode, they can re-enable in-app purchases even if you don't want them to. Enter the passcode twice to set it.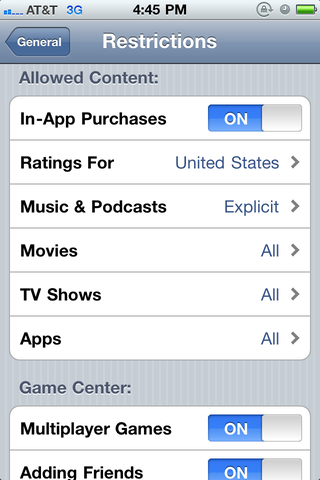 6. Once the passcode is set, scroll down to the Allowed Content section. Slide the In-App Purchases slider to Off (in iOS 6) or to the left so that it's white (iOS 7). This will prevent anyone who doesn't know your passcode
Your finish. You can always reenable this option whenever you want. Please check out our other articles and please subscribe to our blog for more interesting articles, news, app giveaways and news